This article was originally posted at my site. Only some of my articles are posted on SBC Voices. If you would like access to all of my articles, you can follow my feed here. You can also connect with me on Twitter, Facebook, and Google+.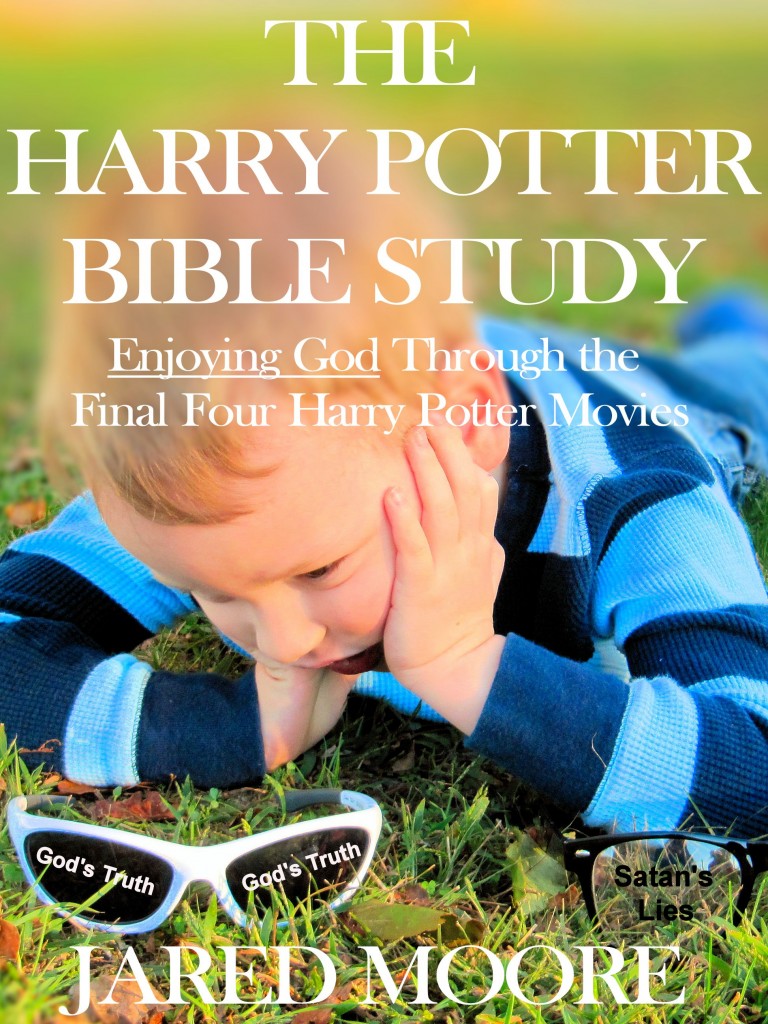 I've written a book titled The Harry Potter Bible Study: Enjoying God Through the Final Four Harry Potter Movies. You can purchase it on Amazon and Barnes and Noble in paperback ($8.99), or you can purchase it for your E-reader ($1.99): Kindle, Smashwords, Nook, Ipad, Lulu, Kobo, Sony, and others. I hope you enjoy the book.
If you're curious about the content of The Harry Potter Bible Study: Enjoying God Through the Final Four Harry Potter Movies, Scott Oakland on Reformed Cast recently interviewed me.  Here's the video:
Furthermore, several people have reviewed my book.  There have been good comments and some not so good comments:
The Good
Lisa Robinson at Parchment and Pen said,
Overall, I think that Moore's study is worth the time and is no more detrimental to the Christian than watching the 11:00 news.  In fact, by engaging with the discussion guide and the movie, I can't help but see how it would but sharpen our Christian worldview lens and provide a greater ability to interact with heightened Christian thinking in the world we live in.  Moreover, the questions can serve as a guide to evaluate other media products as well and should give the reader a better sense of discernment.

But most importantly, Moore uses this study as an opportunity to demonstrate that the only real remedy is found in Christ.   The gospel is the very foundation and overarching theme which Moore wishes to highlight, as he states here,

"To summarize, this Bible study is based on the foundation that Christians should engage their cultures, find the common examples of God's image therein, extract these common truths, and add God's truth to them: 1) man is sinful (Romans 3:23); 2) God's answer for the sin problem is Christ's redeeming work in reconciling sinners and creation to His Father (John 14:6). (pg 23)"
You can read the full review here.
Sarah Crouch, adjunct professor at Dallas Baptist University, at The Baptist Standard said:
Jared Moore's stated purpose in writing this book is to teach Christians how to interact with pop culture. Since all truth is God's truth, he asserts Christians must participate in media in order to recognize where the world intersects with the truth of God's world.

Moore briefly discusses the evil elements in these final four films, but he extracts many truth principles and builds on them with supporting Scriptures. They include laying down our life for our friends and standing up for truth. Additionally, he encourages readers to dig deeper by examining trickier questions such as the Christian response to racism and whether sinners deserve to be saved from their sins.

The introduction provides an excellent foundation for this Bible study, and the book's appendix presents the author's argument in favor of watching scary movies. He suggests a lack of faith in God's control and/or the sinful choice of depression could be the source of anxiety over watching these films. Whether you agree with those conclusions, this book is a recommended resource for family worship, neighborhood outreach, youth/college groups or sermon illustrations.
John Gardner at Honey and Locusts said,
In summary, this is a book that will benefit the Harry Potter fan in your family, but is also a worthwhile purchase even for those who don't like the books or movies. While Moore's insights on the films are valuable in themselves, this is of even greater worth as a prime example of how Christians can engage pop culture in a way that leads to both our enjoyment and God's glory. I think of it as a practical model of the type of cultural interaction described and encouraged by great authors such as Francis Schaeffer, Andy Crouch, and Nancy Pearcey. (For those who don't know me or those authors, that's very high praise!)
You can read the full review here.
Jeff Wright at his blog said,
The lasting value of this study transcends cultural engagement, as important as that task is. The reason I would recommend this book to any Christian is that it does such a great job of leading the reader through the process of evaluating media from a Christian worldview. I am one who advocates appropriately interacting with media as a means of speaking truth to culture from within culture. Said another way, I believe we have an obligation to use the truth built into fallen culture by the Creator to lead those around us to the saving truth of God's revelation. Engaging media and making use of what gold we find there is the closest most of us can come to what Paul does in Titus 1:12 and Acts 17.

The sad reality is that while the world "worldview" has become very familiar in our churches we Christians don't tend to do much close-range viewing of the world. Avoidance is still carrying the day and that mentality contributes to the unhealthy ghettoizing of the church. We have received much in terms of worldview instruction. We greatly need more modeling on how to employ our instruction and Moore's book gives just that.
You can read the full review here.
Russ Reaves at Searchlights from the Scriptures said,
This book is a great guide for families, as it contains information that all ages will find appealing. As we used the book during family devotions after watching each film, my youngest child was able to discuss the questions of morals; my older child was able to discuss several of the biblical and theological themes; and my wife and I were challenged by some of the weightier questions and issues. At one point, my youngest child said, "It's almost like the movies were made so we could talk about this book!" My older one is anxious for the author to release a "prequel" dealing with the first films in the series.
So, in conclusion, I highly recommend the book to Christians, and to Christian parents in particular. For those who have some concerns about allowing their children to watch the Potter films, I believe that watching them together as a family with this trusty guide at hand will do much to help your children analyze the films' themes through the lens of Scripture and the Christian worldview. Not only this, the book also helps to equip believers to engage and interact with media in an intelligent and responsible way. Following Moore's lead, believers could learn to ask questions and analyze themes in any film, book, show, or music.
You can read the full review
here
.
Michael Levitt said,
The lessons I will take away from this book is that we should be aware of what society has to offer, and view things with a discerning eye. Rebuking movies and books without knowing anything about them is quite frankly naive thinking.  As long as we hold on to the Truth, and use that as a guidepost, we can enjoy the talents of creative writers and movie makers, without sacrificing our faith or beliefs.
You can read the full review here.
Dave Jenkins at Servants of Grace said,
Engaging others with the Gospel does not mean accepting what they are teaching, but rather using what they are teaching as a vehicle to impact lives for eternity. Engaging differing worldviews will help Christians to be able to discern truth from error which is what every believer should be doing. I encourage you to pick up a copy of this book, and begin to think through how you can better engage others with the Gospel.
You can read the full review here.
D. S. Hildreth, Director of the Center for Great Commission Studies at Southeastern Baptist Theological Seminary, said,
Beyond the basic use of the book as a Bible, the most valuable part of the book is Moore's thoughtful, and theologically engaging, discussion about the importance of culture and the way Christians should view the arts. Moore writes, "The purpose of this Bible study is to teach Christians how to participate in media unto the glory of God." (p.9) He does a wonderful job highlighting the benefits and warning readers about the potential problems. This discussion alone is worth the price of the book. Long after the usefulness of the actual Bible study in this book, readers will be able to refer back to this discussion and be encouraged.
You can read the full review here.
ADS said,
Living in a culture in which the media plays such an influencing role, it's helpful to have guidance in looking at secular media through the truth of the Bible. Not only does the author show us how to look at the Harry Potter movies, but also gives us insight, as Christians, in how to engage all secular media. I would certainly recommend this book for anyone wanting to teach their children to see this life from a Christian worldview.
G. Minor said,
I wondered how serious and true to the Bible this work could be, but was soon pleasantly surprised at the depth of thoughtfulness and desire to honor God. Rather than pandering to a cultural fad, Jared Moore redeems culture by examining it through the lens of Scripture.  Any book that begins by chastising us for believing like Augustinians but acting like Pelagians has a lot to recommend it.  Harry Potter fans (which I am not) and non-fans alike will find much of value in this work. Thanks, Jared for reminding us that this world, all of it, is subject to Christ the King.
Derik Zoo said,
A Fantastic 6 week study that is informative and inspirational. Whether you're a Happy Potter fan or not (I personally am not), you will enjoy this book. Moore hits a home run and I eagerly await his next book.
 Amy Russo at Throw Away Everything said,
I really liked the study. It is theologically sound. His writing is clear and the book well organized. It is an excellent resource in how to be a discerning Christian when interacting with media of any kind – but movies/TV especially. The Harry Potter Bible Study is engaging, easy to read, and teaches solid Biblical principles. I definitely recommend it.
You can read the full review here.
Tim Prussic said,
I have to admit that too often Christians don't handle common culture very well. Jared Moore, however, has produced a thoughtful and useful gloss of and interaction with the final Harry Potter movies. You may find that you agree or disagree at points, but you'll find Mr. Moore's analysis interesting. His thinking is grounded in Scripture, thus is observations are helpful. This books is recommended.
The Not so Good
Benjamin Potter at Book 'em Benj-O said,
There are a couple of drawbacks that I find to this study (even if I am excited about the concept):

1) The author suggests that you use this study to engage your non-Christian friends in a discussion (and possibly an evangelistic one) about Christ. He even states that he includes strong gospel presentations in the material. Yes, and no. There are questions that are pointedly written to draw a Christ-accepting decision from the participant. The presentation of the gospel message does not always flow from the discussion material at hand.

2) The discussion surrounding the movies themselves doesn't start until the third lesson. If you are planning on convincing a group of non-Christians, pseudo-Christians, or baby Christians that you want to have meaningful discussion about the movies (which includes a "watch" party, complete with popcorn and soda) it would behoove you to start watching the movies early on.

3) The questions raised by the author are relevant and poignant, but often through the reading of the material one has to scratch his head at why the author is raising such a question.

4) Probably the most glaring of difficulties I had with this goes back to using the material to present the gospel. Most of the questions raised for discussion deal with issues that would only be important to those who are already Christians or are already in (or open to) a Christian environment. If we really want to bridge the gap between Christians and the outside community, there might be better places to start.
You can read the full review here.
James Kane at 1 Man and His Books said,
Using my rating system of 1 to 5, I give this book a 3.5 an ok to good read. It is a study guide and is written as a study guide not as book. The reason for my rating is that for content I give it a 4 but a 3 related to how it is put together. To get full use out of the this book you will need to utlitze it as it is written. I believe that a college age audience will find this book to be of help in discussing religious and philosophical issues. I applaud Moore as well for writing this book and seeking to engage people in a meaningful discussion of this major book and movie franchise.
You can read the full review here.
G. Ho. said,
To be honest, I'm not sure how well this would work as a formal Bible study. The first lesson had very little Harry Potter, and only a moderate amount of Bible. The second chapter concerns "evil elements" present in the series and uses appropriate Scripture references, but does not concretely interact with the Harry Potter series. The book is at its best in the final four chapters, corresponding to the four movies. Here the questions and comments he provides are helpful.  How would this be applied in the local church? I'm not sure if the author is advocating Harry Potter movie nights followed by these Bible studies. Rather, I think it might be best used by parents and youth workers to formulate questions that they may ask their youth.
You can read the full review here.
I appreciate all those who took the time to read and review this book.  Thank you so much! You can purchase my book on Amazon and Barnes and Noble in paperback form ($8.99), or you can purchase it for your E-reader ($1.99) at Kindle, Smashwords, Nook, Ipad, Lulu, Kobo, Sony, and others. I hope you enjoy the book.
This article was originally posted at my site. Only some of my articles are posted on SBC Voices. If you would like access to all of my articles, you can follow my feed here. You can also connect with me on Twitter, Facebook, and Google+.