…and these last weeks have been more drama since the hot years of the Conservative Resurgence.
I have observations and opinions but perhaps the investigation will prove beneficial in the long haul. No one knows.
One might note this significant change in the Baptist Press policy on reporting abuse:
Baptist Press will continue to report every instance of abuse related to Southern Baptist churches or leaders of which we are made aware.
BP made this change earlier, not as a result of the past weeks of turmoil. Some of us were attuned to clergy sex abuse when BP would never carry and news story of such.
Our flagship giving program, the venerable Cooperative Program, is approaching its one hundredth birthday. Like all of us seniors, it is in a long term decline. Our SBC colleagues in the under fifty age category, Twitter heroes all, will not remember when the CP percentages for churches averaged above ten percent. It is headed south from five percent nowadays. This trends has many structural causes that are intractable and difficult to overcome.
There are a thousand reasons why I doubt we will ever see percentages recover to the halcyon days of the 1970s. One reason is that no matter who gets mad in the SBC and no matter what the reason for that, they take aim at the CP. The record is that the CP easily slides down with controversy but is almost impossible to climb back up. If we had a love fest like no other in Anaheim, I wouldn't expect that would translate into CP increases.
But if you want good news in the SBC today look no farther than…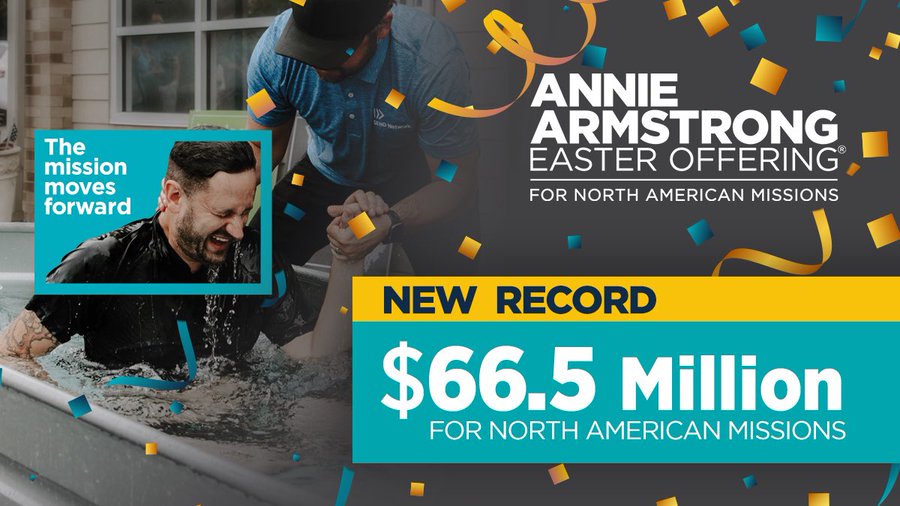 There has been a loud and persistent anti-NAMB narrative, yet SBC churches are giving record amounts. Glad to see that.
I'll go on record as predicting that the SBC will experience an increase in baptism when the figures are reported. Hold me to that.
Alas, no prediction from yours truly for a CP increase. Churches have long figured out how to make direct gifts to the mission boards, or how to prioritize the two big offerings, Lottie and Annie, at the expense of the staid old CP.
My prayers are for a quieter, more sedate Executive Committee. Let the chips fall where they may.